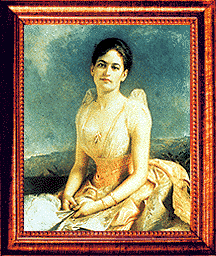 Our Founder -Juliette Low
Juliette Magill Kinzie Gordon Low was born October 31, 1860, in Savannah, GA. Although her name was Juliette, everyone called her Daisy, only her grandmother called her Juliette.
When Juliette was 26-years-old a doctor punctured her eardrum while removing a grain of rice that landed in her ear during her wedding ceremony. Unfortunately, her marriage to her husband, Willy Low, did not last and they decided to divorce when Willy got ill and died.
While visiting England, at the age of 52, she learned about an organization called the Boy Scouts, founded by Lord Baden-Powell. His sister also had a group called girl guides. When Juliette returned home she was eager to share this wonderful idea with girls in the United States.
Juliet's first experience working with girls was in a Scotland troop. Seven girls met every Saturday to learn about cooking, knitting, first aid, personal hygiene, and knot tying, pretty much like girls today. The first Girl Scout was Juliet's niece, Daisy Gordon. Today, Girl Scouts continue many of the same traditions Juliette created.
In 1916 there were only 3,000 girl scouts in America. Today there are almost three million girl scouts from all parts of the United States. To find out more about Juliette Low, log on to the Girl Scouts of the USA web site: www.girlscouts.org/girls/GS/JGL/visit/visit.htm